New ruggedized vehicle mount computer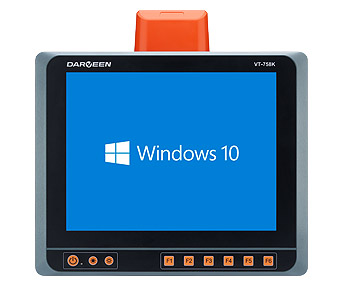 The VT-758K from Darveen Technology is the latest generation of ruggedized vehicle mount computers that comes with Intel® Bay Trail processor and Windows® Embedded Standard or Professional operating system. The VT-758K harnesses full Microsoft® Windows computing power in a mobile environment, optimizing application and network management compatibility, while remaining flexible enough to run multiple advanced applications.
The VT-758K does have a 10.4" industrial resistive or capacitive touch screen, built-in 802.11 a/b/g/n/ac, Bluetooth V4.0, LTE, GPS/GNSS/Beidou, CAN2.0B modules, 8~36V wide-range DC input with power ignition function and does have Integrated numeric and function keys. The system is aimed for usage in industrial vehicles, such as forklifts, trucks, trailers, cranes and other heavy-duty vehicles. Meet STD-MIL-810G of anti-shock and vibration, IP65 dust and water proof standard make it operating freely in the most demanding environment.