The ITK100 IP Telephony Developer Platform
The ITK100 IP Telephony Developer Platform receives "Product of the Year Award" for outstanding Innovation.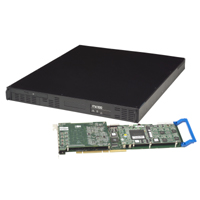 The Platform creates a foundation for the delivery of highly innovative solutions. The ITK100 combines Crystal's rugges CS100 1U server platform with AudioCodes high quality IPM-260 Media Processing Board and Developer's kit. The IPmedia™ (IPM) Boards are complete VoIP media processing solutions providing IP and PSTN interfaces to build next generation applications for current and future networks. The 1U CS100 rackmount server assures a high-density, rugged platfom for next generation applications in military and telecommunications environments. The combination of these products, the ITK100, is essential to create the most advanced, rugged and reliable VoIP systems for ISVs and OEMs to deploy in the industrial, military and telecommunications market.
Click here
to download Press-Release
Click here
to download datasheet
Click here
to download product overview
Crystal Group, Inc.
is uniquely comprised of three business competencies rolled into a single supplier.
They are server manufacturer, systems provider, and a custom design and manufacturing services provider. This three-tier approach is unique in the server industry and allows Crystal to excel at the delivery of turnkey systems tailored to specific customer needs.
Crystal provides server architecture and related integration services for mission critical installations wordwide. They design, manufacture, integrate and support server-based systems architecture for communications, broadband, goverment, and industrial applications.