PC/104+ High Efficiency Power Supply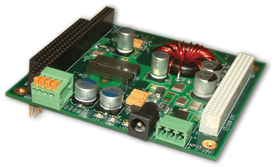 Sensoray's new PC/104 Power Supply, Model 209, has a wide input voltage range of 8 to 30 VDC. Its three outputs of 5 VDC at 5 amps and ±12 VDC at ±0.5 amps supply power to the PC/104 and PC/104+ buses. Power output connectors are available for external devices such as video cameras and fans. Input power is via a 3-pin removable terminal block or through a 2 mm circular power jack.
RoHS compliant product.