New! WinSystems Industrial Quad-Core Intel® SBC35-CC405-3845
The SBC35-CC405-3845 is a high-performance, industrial, small form factor (SFF) computer capable of operating at extended temperatures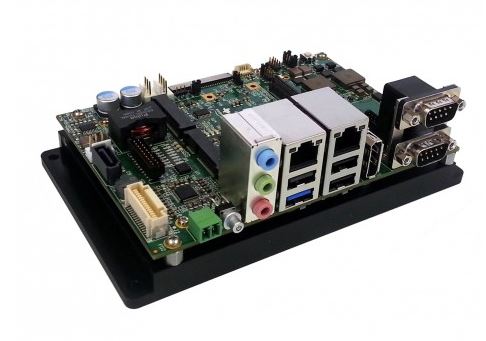 without requiring a fan or heat-pipe. The Intel® E3845 Atom™ processor is integrated into the solution using a Type 6 COM Express module. A low-profile thermal solution creates a rugged platform base that protects the PCB assembly and provides convenient four-point mounting.
Benefitting from Intel®'s Silvermont microarchitecture, the Atom E3800 series provides up to twice the performance of previous Atom™ processors with a reduced thermal design power (TDP) range from 5W to 10W. The SBC35-CC405-3845
has a wealth of I/O and expansion options including USB3, USB2, dual Gigabit Ethernet, MiniPCIe, two RS-232/422/485 serial ports, I2C and SPI bus. The SBC35-CC405-3845 is the perfect choice for embedded applications that require a high-performance processor operating over an extended temperature range with expansion options to meet current and future project requirements.