New: Model 2263 Audio/Video HD H.264 Encoder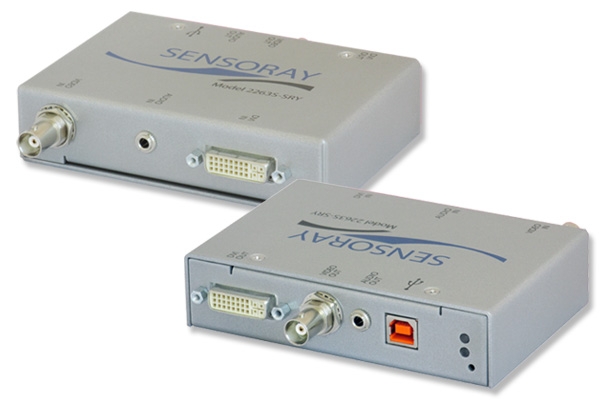 Model 2263 is a versatile USB audio/video encoder that supports multiple analog and digital input formats. It captures HD/SD video and simultaneously sends a compressed and an uncompressed (preview) stream to the host. Supported video inputs include DVI, component (with a component to DVI-I adapter, not included) and composite. Audio is optionally captured from analog line input, compressed and multiplexed into transport stream.
Model 2263 is designed as a UVC (USB Video Class) device, which means it does not require a device-specific driver. It is controlled using a video API (DirectShow or Video4Linux). Sensoray provides Software Development Kits (SDK that speed up application development) for several operating systems. A fully functional demo application illustrates the capabilities and serves as a good starting point for custom development.

Features
HD/SD video capture from DVI, component, composite sources
Low latency uncompressed preview on host
Video compression: H.264 HP@L3, MJPEG
Audio compression: AAC
USB bus powered
UVC compliant
SDK for Windows, Linux, and OS X

Pending Features: VGA input, Video Output and Decoding, Ethernet version
With decoding feature implemented model 2263 will be able to convert a compatible compressed video stream into analog or digital video output. (Note: decoding is guaranteed only for streams captured with the 2263). It will also be capable of passing video through while adding Unicode text and graphical overlays uploaded in real time via the USB interface.
An Ethernet version of 2263 (model 2463) will act as a stand-alone IP video server. It will support all 2263 features except live uncompressed preview.
Please contact us regarding availability.