New i3, i5 and i7 Mini-ITX board from Evoc Intelligent Technolgy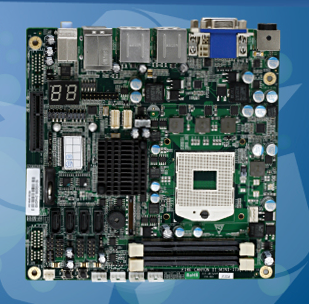 Recently, EVOC and Intel have jointly developed and launched the world' s first Mini-ITX single board computer based on QM67 platform, the EC7-1817LNAR. It has become a hit product on the market as soon as it was launched. The product contains latest second-generation Intel® Core™ processor and multiple connectors. With complete expansibility and high-end performance, the product can be used in a wide range of embedded applications, such as industrial control, medical equipment, POS/Kiosk, digital signage, monitoring & security device, and automation controller. In addition, EVOC also launched EC3-1815CLDNA, an embedded single board industrial control product based on new-generation Intel® Atom™ E6XX series processors. As a brand-new economical and practical low-power platform, EC3-1815CLDNA can be used in various embedded applications, including in-vehicle information & entertainment system, digital security monitoring system and IP multimedia phone.

With the deepening of the partnership between Intel and EVOC, the two companies have greatly upgraded their cooperation level. Recently, EVOC has become an Associate member of Intel® Embedded Alliance, which means the two companies will further deepen their cooperation on embedded platform solutions, and maximize resource sharing. EVOC will continue to exploit its advantage as a market leader in the embedded field, promote the R&D of partners' products along the supply chain, and introduce more information technologies to boost the development of the industry.

EVOC says, the upgrade of cooperation level signifies that the two companies have ushered in a new era of strategic cooperation. This can facilitate suppliers to make best-possible concerted efforts on the R&D roadmap, ensure that system integrators can use latest embedded platform products, satisfy end-users' requirement for product quality to the fullest extent, and help manufacturers provide embedded intelligent platform products with higher reliability, higher speed and more powerful functions for the global market. 

*  Intel®, Intel® Core™ and other Intel marks are registered trademarks of Intel Company in the United States and other countries.

*  Other product names and brands mentioned herein may be trademarks and/or registered trademarks of their respective companies.
EVOC Intelligent Technology released the new Mini-ITX boards ideally suited for Digital Signage applications. The board itself is equipped with the latest Intel® QM67 Express Chipset and support Intel rPGA988  i3, i5 and i7 processors. The board support up to 16 Gbyte memory through DDR3 DIMM slots and provides flexible combinations dual display combinations of HDMI, DVI-D and VGA. Apart from Digital Signage application, the board can be used in a wide range of applications like Passenger Information Systems, Patient Monitoring, etc.
RAID0, 1, 5 and 10 configurations are supported with 3rd generation SATA at 6.0 Gbps.

Other specifications:

Gigabit Ethernet controller

4 X SATA

12x USB2.0

Audio port

2x RS-232

PCIe x4 and miniPCIe
Datasheet