New from Sensoray, H.264 High Definition Video Capture, Compression and Playback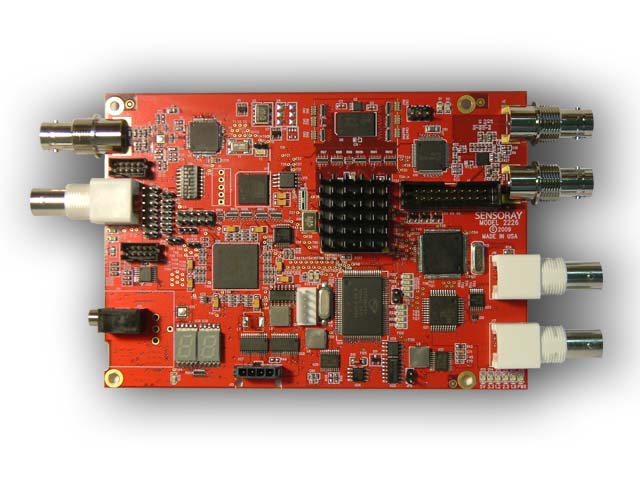 The Sensoray Model 2226 is a USB 2.0 HD/SD H.264 capture device, and configurable as Encoding or Decoding device. It supports many different NTSC or PAL video inputs/outputs including SDI, Composite Video, and S-Video in/out. The video formats include HD 1080i, HD 720p, and SD 480i/576i.
For the need of combining audio capturing/decoding, the Model 2226 provides different audio inputs/outputs including stereo/mono AudioJack input, XLR3 microphone input, stereo/mono Line-in/out audio input/output, and stereo headphone audio output. A single +5V power supply through a Molex 43650-0403 connector is required to power
the board.
The 2226 is a USB 2.0 A/V (Video & Audio) capture device. The 2226 supports multiple video input formats including 1080i, 720p, 480i, & 576i. The 2226 outputs MPEG2-TS with H.264 High Profile MPEG encoding for HD and H.264 Main Profile for SD. It is capable of decoding the encoded 2226 H.264 stream back to the HD & SD SDI outputs as well as the composite SD outputs. HD video is encoded in H.264/AVC High Profile Level 4.0 while SD video is encoded in H.264/AVC Main Profile Level 3.0.

A/V Multiplexing
The 2226 performs synchronization of the audio/video streams in hardware. The resulting H.264 stream is perfectly synchronized with no noticeable lip flap or delay between the video and audio.

Inputs
The 2226 video inputs/outputs include HD/SD SDI, Composite video, and S-Video. The 2226 supports stereo/mono line in/out, XLR3 microphone input, and headphone output.

Uncompressed Capture
The 2226 is capable of outputting an uncompressed video stream through the USB port of the host pc. This reduces the visual latency and the load on the host CPU when displaying video. HD video streams are downscaled to comply with the bandwidth limitations of the USB 2.0 bus.

Video Overlay
The 2226 supports full screen HD image/logo overlay at 16 bit color. The 2226 allows up to 8 hardware managed overlapping images, or an unlimited number of user defined full screen bitmaps to be added to the video stream. The video with overlay is compressed for storage on the host PC, as well as passed through to the video outputs of the 2226.

Supported Video Formats and Bit Rates
HD: 1920x1080i, 30/29.97/25Hz, 2Mbps to 20Mbps
1280x720p, 60/59.94Hz, 2Mbps to 20Mbps
SD: 720x480i, 29.97Hz (NTSC), 1Mbps to 10Mbps
720x576i, 25Hz (PAL), 1Mbps to 10Mbps