Intel® Atom™ EBX-sized SBC integrates new COMIT™ computer module and SUMIT-ISM™ I/O expansion standards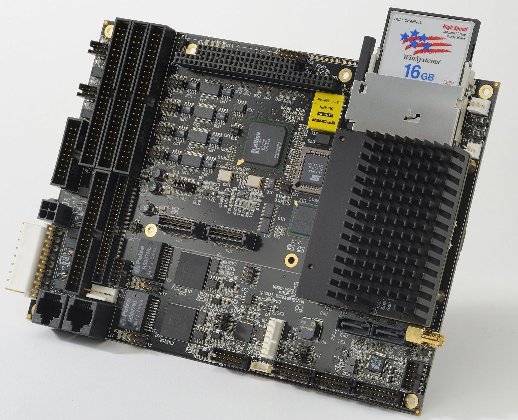 Today, WinSystems announced their EBC-Z8510-G single board computer (SBC) powered by an Intel 1.1GHz Atom™ processor. This SBC measures 203mm x 147mm (8.5" x 5.75") and supports the new SUMIT-ISM (Stackable Unified Modular Interconnect Technology - Industry Standard Module) I/O expansion standard plus COMIT (Computer On Module Interconnect Technology™) defined by the Small Form Factor Special Interest Group (SFF-SIG). These standards define a forward looking, future path to support the new low power and ultra-mobile processors and their high-speed, serial I/O buses. This advancement in board-level architecture features easy connectivity and legacy I/O migration. With a blend of high-bandwidth PCI Express™ (PCIe) lanes, USB ports, and lower speed multiplexed and serial buses, SUMIT and COMIT can be added to a variety of board form factors, and is flexible and compact enough to meet a very broad range of application requirements.
FEATURES
The EBC-Z530-G is a full-featured SBC with a rich array of on-board peripherals plus even more expansion options. It is based on either Intel's 1.1GHz Atom™ or 1.6GHz Atom™ and the SCH-US15W Systems Controller Hub with 512MB or 1GB DDR2 systems memory. The EBC-Z510-G's I/O interface features two Gigabit Ethernet ports; CRT and LVDS flat panel video, a MiniPCIe card interface for a wireless networking module, four USB 2.0 ports, four serial COM ports, HD audio, PATA controller for both a CompactFlash and hard disk, 48 lines of digital I/O, LPT, and a PS/2 port for keyboard and mouse. Additional I/O module expansion is supported with two SUMIT and legacy PC/104 connectors. This RoHS-compliant board operates over an industrial temperature range of -40° to +70°Celsius for processor- and I/O-intensive applications in harsh and demanding environments.
Since the EBC-Z510-G's architecture is PC compatible, it supports Windows® XP embedded and Linux software operating systems along with a vast software development tool set including device drivers and libraries. It also supports advanced features such as custom splash screen, APM and ACPI power management modes, and PXE boot.
ABOUT COMIT
The EBC-Z510-G is the first board to support COMIT. COMIT is targeted towards small form factor processor modules and baseboards leveraging the latest ultra-mobile and moderate power processor/chipset combinations. WinSystems is using a 62mm x 75mm card SFF-COM card (which is roughly the size of a credit card) that includes the Atom, SCH, memory, and power supplies. COMIT was introduced by the SFF-SIG at ESC/Silicon Valley in April 2009. More information is available at www.sff-sig.com.
More I/O Expansion Options: SUMIT-ISM and PC/104
SUMIT-ISM provides I/O expansion for common serial and legacy chipset buses for next generation products. It is a stackable, I/O-centric, serial expansion approach on a 90mm x 96mm module using two 52-pin SUMIT connector pairs. It allows the modules to stack above any SBC supporting SUMIT-ISM expansion. Even through SUMIT-ISM modules can be constructed with SUMIT connectors alone, special configurations in the Specification have been defined to support expansion with legacy PC/104 form factor modules (SUMIT-ISM_spec_v15.pdf). The EBC-Z510-G supports both SUMIT and PC/104 expansion to provide flexibility and support for the thousands of PC/104 modules currently available worldwide.
ABOUT WINSYSTEMS
WinSystems designs and manufactures industry-standard PC/104, SUMIT-ISM, EPIC, EBX computer boards and I/O modules for use by OEMs and system integrators worldwide. We have served the industrial market for over 27 years.