Four Channel PCI/104 Express Frame Grabber from Sensoray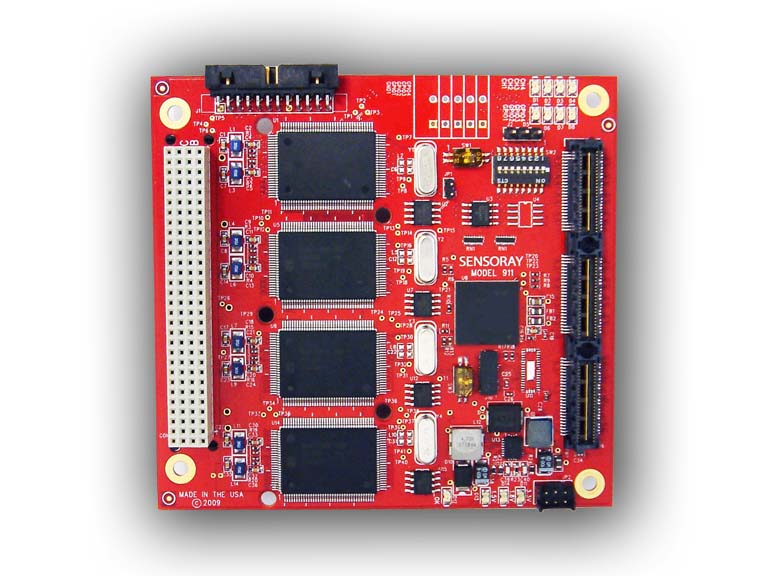 Model 911 from Sensoray is a PCI/104 Express 4-channel frame/video capture device designed for applications requiring a high capture rate from multiple input video channels. It supports capturing from NTSC, PAL, SECAM, RS-170, and CCIR video sources. The Model 911 provides four channels of stereo or mono audio capture associated with the four channels of video respectively.

For each video channel, the frame capture rate is up to 30 fps for NTSC and 25 fps for PAL. The total frame/video capturing rate up to 120 fps for NTSC and 100 fps for PAL. The 911 supports the following capture resolutions: D1.N (NTSC), D1.P (PAL), VGA, QVGA, QQVGA, SIF, 2SIF, 4SIF, CIF, QCIF, SQCIF, 4CIF.

Associated with each channel, general digital I/O signals are also provided for control, trigger, or alarm purposes.

A single +5V power supply through the PCI/104 express bus is required to power the board.
Specifications
| | |
| --- | --- |
| Video Formats | NTSC, PAL, SECAM |
| Video Inputs | 4 input channels, simultaneously: 4 Composite video via a 24-pin connector, 75 Ohms; or 4 S-Video via the same 24-pin connector, 75 Ohms; or combinations up to 4 channels of video in, 75 Ohms |
| Audio Inputs | 4 input channels: associated with 4 separated video channels Stereo or mono for each channel, via four 3.5mm TRS StereoJacsk; Or, break-in stereo/mono signal from a 34-pin connector Signal level: Line-in level, +/- 1.0V |
| Video Capture Modes | Raw: RGB or YUV |
| Video Capture rate | Up to: 120 (30x4) frames/sec for NTSC/RS-170/CCIR 100 (25x4) frames/sec for PAL/SECAM |
| Audio Sampling Rate | Configurable: 32 kHz, 44.1 kHz, or 48 kHz |
| Video Encoding | Could be done by software: i.e. MPEG1, MPEG2 (MP@ML), MPEG4 (SP), or MJPEG |
| Resolution | Up to Full-D1: NTSC: 720x480 PAL: 720x576Supported: D1.N: 720x480 D1.P: 720x576 D.5: 480x352 SIF: 352x240 2SIF: 704x240 4SIF: 704x480 VGA: 640x480 QVGA: 320x240 QQVGA: 160x112 CIF: 352x288 QCIF: 176x144 SQCIF: 128x96 4CIF: 704x576 |
| Digital I/O | 4 inputs + 4 outputs: TTL signals 4 configurable inputs/outputs, via I/O terminals; all 4 inputs + all 4 outputs on breakout 34-pin connector |
| Bus | PCI-Express x1: Compliant of PCI-Express Base Specification (Revision 1.0/1.1) PCI-to-PCI Bridge Specification (Revision1.2) |
| OS Platform | Windows and Linux |
| Power | 6.5W, +5V @ 1.3A |
| Temperature | 0 – 70 C |
| Board Size | 3.775" x 3.55" (96mm x 90mm) |
| | | |
| --- | --- | --- |
| Number of cameras | NTSC per channel frames/sec | PAL per channel frames/sec |
| 1 | 30 | 25 |
| 2 | 30 | 25 |
| 3 | 30 | 25 |
| 4 | 30 | 25 |