EVOC Released Multi-LAN Embedded SBC, based on latest Intel® Atom™ Processor D510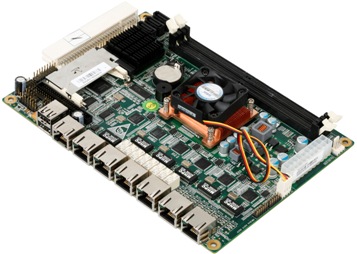 Shenzhen, March 2, 2010 - Today EVOC, one of the world's leading manufacturers in the IPC industry, launched NET-1815VD6N, a Multi-LAN embedded single board computer based on the latest generation Intel® AtomTM processor.  The Intel® AtomTM processor D510 is based on Intel® 45nm process technology and boasts dual core, four threads, EM64T support, with main frequency at 1.66GHz; FSB: 667MHz; L1 cache: 2×24KB+2×32KB; L2 cache: 2×512KB.

The NET-1815VD6N provides two onboard memory DIMM slots, supporting up to 4GB DDR2 667 memory. The board is equipped with the integrated Intel® GMA 3150 graphics engine. For video output, this product only provides VGA port, which is enough to satisfy network applications that do not require exceptional video performance.

NET-1815VD6N provides 6 x onboard Gigabit LAN port, 3 x SATA interface, 1 x DOM interface and 1 x CF card slot, to meet system storage requirements for various applications. In addition, onboard 2 x COM port (COM1 is RJ45 type; COM2 is pin header type), 1 x LPT, 4 x USB port (two are standard ports; the other two are pin type). The Product can operate stable in a temperature range of 0°C~+60°C.

The NET-1815VD6N is a low-power product targeting low-to-medium end network applications. The product supports Microsoft Win7/ XP/ XPe/ Vista and Linux operating systems.

EVOC is one of the leading manufacturers of embedded and industrial computing products. It has over 1,500 types of products, including Fanless Systems, ETX/Com-Express, Full-size CPU Card, Half-size CPU Card, 3.5 SBC, 5.25 SBC, EPIC Board, Industrial Panel PC, Workstation, PC/104 product, Compact PCI, Network Application Platform, Rugged Laptop and OEM/ODM services. As a high-tech company, EVOC devotes itself to providing highly reliable and stable embedded products and system-integrated solutions for various applications, such as banking, electric power, electronics, energy, environmental protection, gaming, instrumentation, manufacturing, medical care, networking, telecoms and transportation, etc.

EVOC is an Affiliate Member of the Intel® Embedded Alliance, a community of embedded developers and solution providers.

Intel and Intel Atom are registered trademarks of the Intel Corporation in the United States and other countries.