EVOC Released Intel i7 Embedded EBX Single Board Computer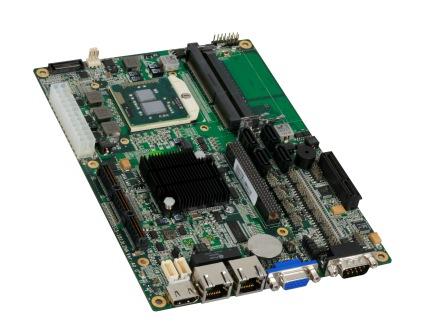 EVOC, one of the world's leading IPC manufacturers, launched the EC5-1813L2NA, an EBX Single Board Computer based on new-generation Intel® Core i7 processor, based on Intel's 32nm process technology and dual-chip platform, which integrates Northbridge in the CPU and provides high performance, energy saving, management function, security protection and smoother visual experience.
EC5-1813L2NA module provides high performance on low TDP and supports Intel® PGA988 package 32nm dual-core I series Arrandale CPU's like the Intel® Core i7 processor i7-620M and Intel® Core i5 processor i5-520M. EC5-1813L2NA is equipped with two 204-pin DDR3 slots(non-ECC), supporting up to 8GB memory. It has powerful expansibility and abundant I/O ports. Next to that it supports various video display devices, including HDMI, dual-channel 18/24-bit LVDS, VGA and dual independent display devices. The EC5-1813L2NA supports 4 x SATA interface, 6 x COM port, 8 x USB 2.0 port, 8-bit GPIO and 1 x PCI-E x4, 1 x Mini PCI-E slot, 4 x PCI master device, 1 x PCI-E x16 and 1 x PCI-E x1 expansion which complies with PCI/104-ExpressTM&PCIe/104TM Specification Version 1.0 standard. The product also has two high-speed Ethernet ports to support high-speed network access and its flexible requirements.
EC5-1813L2NA is ideally suitable for a wide range of applications, such as medical equipment, POS/Kiosks, digital signage, security monitoring equipment, automation controller, etc. EC5-1813L2NA is compatible with Microsoft Win7/ XP/ XPe/Vista and Linux operating systems. 
EVOC is one of the leading manufacturers of embedded and industrial computing products. It has over 1,500 types of products, including Fanless Systems, ETX/Com-Express, Full-size CPU Card, Half-size CPU Card, 3.5" Single Board, 5.25" Single Board, EPIC Board, Industrial Panel PC, Workstation, PC/104 product, CompactPCI, Network Application Platform, Rugged Laptop and OEM/ODM services. As a high-tech company, EVOC devotes itself to provide highly reliable and stable embedded products and system-integrated solutions for various applications, such as banking, electric power, electronics, energy, environmental protection, gaming, instrumentation, manufacturing, medical care, networking, telecoms and transportation, etc. 
EVOC is an Affiliate Member of the Intel Embedded Alliance, a community of embedded developers and solution providers.