EVOC Launched New Heterogeneous Computing Server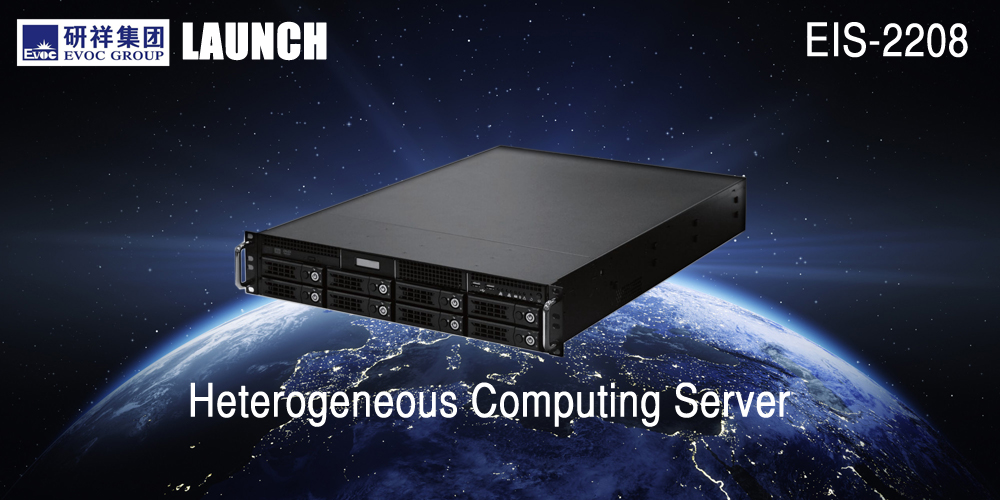 The EVOC EIS-2208 is a 2U rack mount dual-channel heterogeneous computing server based on Intel® Grantley EP platform. It's designed for heavy workload in AI, HPC and acceleration computing with powerful performance and flexible expansion.
The EIS-2208 is targeting complicated computing task with superior hardware configuration. Based on Intel® Grantley EP platform, it supports 2 intel® Xeon® E5-2600V3 (Haswell-EP)/V4 (Broadwell) series processor. Max to 16 DDR4 DIMMs support up to 2TB memory. Except for 8 drawable front storage bays, there're 2x2.5" SATA bays inside for OS/Cache deployment.
Through a internal riser card, the EIS-2208 can support up to 8 PCIE3.0 expansion cards, including 2 PCIEx16 and 4 PCIEx8. The optimized chassis design makes it possible to support 2 full size computing card at the same time. E.g. GPU and FPGA cards.
EIS-2208 support rich I/O for various requirements. There are 2 VGA ports (1 front & 1 rear), 2 USB2.0, 4 USB3.0 and 1 serial port. 2 GigaLAN or 4 GigaLAN are optional with additional 1 BMC management port which support IPMI, SOL, KVM over IP and virtual media.
The EIS-2208 support single and redundant 1+1 power supply. Customers can select from 550W, 800W and 1200W. Redundancy hot plug function is optional.
For more information contact Parhelia B.V.