Emerson Network Power Launches its First Freescale QorIQ Power Architecture® VME Single Board Computer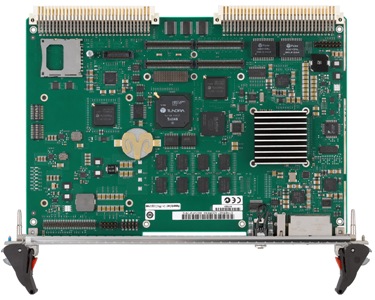 TEMPE, Ariz. [September 23, 2010] – Emerson Network Power, a business of Emerson (NYSE:EMR) and the global leader in enabling Business-Critical Continuity™, today announced its first VMEbus Single Board Computer based on Freescale QorIQ® processors. The 6U MVME2500 features a dual- or single-core Freescale QorIQ processor (P2020 or P2010), designed with Power Architecture® technology, to deliver an outstanding performance-to-power ratio with frequencies up to 1.2 GHz at less than 8 W processor power consumption.
The Emerson Network Power MVME2500 is ideal for cost-sensitive applications with tight thermal constraints in industrial automation, medical, and defense/aerospace applications such as railway control, semiconductor processing, test and measurement, image processing and radar/sonar. It offers a significant performance increase to users of VME boards based on Freescale MPC85xx or MPC7xxx (G4) processors.
Supported by up to 2 GB DDR3 soldered memory, 16 MB SPI boot flash memory and an SDHC socket, the Emerson Network Power MVME2500 also features 512 KB non-volatile MRAM, which is ideal for critical data storage, data logs, dynamic program updates, and dynamic security. On board expansion includes one internal SATA port and one XMC site and a hard drive mounting kit is available for rotating or solid-state hard drives. Connectivity includes three Gigabit Ethernet ports, one USB 2.0 port, five serial ports and PCI Express expansion options.
Extended temperature variants of the Emerson Network Power MVME2500 feature a best-in-class operating temperature range of minus 40 degrees to plus 71 degrees Celsius. Acceptable storage temperatures have also been increased, safely accommodating environments from minus 50 degrees to plus 100 degrees Celsius. Both models are capable of operating under up to 5G of vibration (15 to 2000 Hz) and can withstand an 11 millisecond shock of up to 30G. Conformal coating is also available.
In addition to enabling the boards to operate under extreme conditions while maintaining structural and operational integrity, these enhancements allow customers to preserve their VME-based infrastructures as environmental demands change, extending the life cycles of chassis, backplanes and other existing technologies.
"The large installed base of applications powered by VME boards based on Freescale processors can now take advantage of a significant performance boost with a rugged new board from a reliable, tier one supplier," said Glenn Beck, SBC marketing manager, Freescale Semiconductor. "Backwards compatibility has been a foundation for the success of VMEbus technology and the full software compatibility with existing PowerQUICC processors continues this great heritage of investment protection while adding innovative new features."
"As the driving force of innovation in the VME market, we are committed to continuing leadership in delivering technologies that meet the most demanding requirements of our customers' precision applications," said Paul Virgo, marketing director for the Embedded Computing business of Emerson Network Power. "In this spirit, the MVME2500 will enable our customers to access the most advanced and flexible VME boards at the most competitive cost."
Standard operating system support on the MVME2500 initial release will include Emerson Network Power's own Linux distribution, Green Hills Software's INTEGRITY RTOS, LynuxWorks LynxOS, QNX Neutrino RTOS and Wind River VxWorks.



About Emerson Network Power
Emerson Network Power, a business of Emerson (NYSE:EMR), is the global leader in enabling Business-Critical Continuity™ from grid to chip for telecommunication networks, data centers, health care and industrial facilities. Emerson Network Power provides innovative solutions and expertise in areas including AC and DC power and precision cooling systems, embedded computing and power, integrated racks and enclosures, power switching and controls, infrastructure management, and connectivity. All solutions are supported globally by local Emerson Network Power service technicians.

About Emerson
Emerson (NYSE:EMR), based in St. Louis, Missouri (USA), is a global leader in bringing technology and engineering together to provide innovative solutions for customers in industrial, commercial, and consumer markets through its network power, process management, industrial automation, climate technologies, and appliance and tools businesses. Sales in fiscal 2009 were $20.9 billion. For more information, visit www.Emerson.com.
Business-Critical Continuity, Emerson Network Power and the Emerson Network Power logo are trademarks and service marks of Emerson Electric Co. PICMG, AdvancedTCA, ATCA, COM Express, CompactPCI and MicroTCA are registered trademarks of the PCI Industrial Computer Manufacturers Group. The Embedded Computing business of Emerson Network Power does not claim medical compliance on its products nor does it offer medical grade products at the time of publishing. All other product or service names are the property of their respective owners. © 2010 Emerson Electric Co.