EDT announces Camera Link framegrabber for Express Card Interface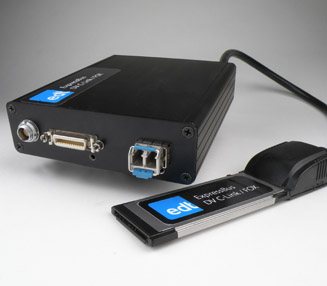 EDT, Inc. announces the release of the ExpressLink DVa: a series of Camera Link framegrabbers for ExpressCard™.

The ExpressLink DVa products provide Camera Link connectivity for laptop and notebook computers equipped with ExpressCard slots. Data rates of up to 190 MB/sec can be achieved.

The ExpressLink DVa series includes options for single or dual Camera Link MDR26, as well as fiberoptic. For example the ExpressLink DVa / C1F1 (pictured) is equipped with one standard MDR26 connector and one fiberoptic transceiver, compatible with EDT's RCX C-Link Camera Link to fiberoptic adapter, shattering the Camera Link 10 meter distance barrier by providing long distance remote siting of your CCD or CMOS camera up to 10 KM from the computer.

Base through full mode is supported, and up to 4 base mode cameras can be connected for sequential or simultaneous image capture (subject to total bandwidth limitations).

Like all EDT products, the ExpressLink DVa comes with a full software development kit, a common application programming interface, and engineer-to-engineer support.