Crystal Group introduces their newest 4U NAS capable server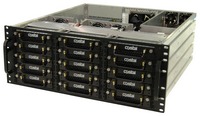 Crystal Group Inc
, a leading server manufacturer and systems integrator for mission-critical telecommunications and military installations worldwide, is pleased to announce its continued dedication to providing top quality industrial and military communication solutions. In an effort to provide enhanced server capabilities, Crystal Group proudly announces the newest addition to the Crystal Group server family and best in class RS line, the
RS47F
.
In environments where performance, ruggedness, and reliability are imperative, the RS47F server is an ideal fit. This 4U NAS capable server was designed for shipboard, airborne, and land-based applications. The RS47F offers extended capability with shock/vibe rating of 4 GRMS in combined wheeled vehicle and aircraft profiles, a temperature range of –20 oC up to 60oC (-4 to140oF) and multiple power options. The RS47F is available with the following processor options: Intel® Core™ 2 Duo, Dual Core Intel® Xeon®, Quad Core Intel® Xeon® and AMD OpteronTM. Expansion choices in this short depth (20 inches) NAS capable server include various PCI, PCIe and PCI-X combinations, meaning greater adaptability. Up to fifteen drives and a slimline CD/DVD are available. The drives are removable and hot swappable. This high capacity server offers up to 15 terabytes storage, is RAID capable and can be deployed as a NAS server.
The RS47F is designed and being tested to meet MIL-STDs 810F, 167-1, 461E, and 901D requirements. As always, each Crystal server comes with a standard three-year warranty. On-site, next day and extended warranties are available with CrystalGuardTM coverage. Configuration Management is also available.
The chassis side walls of the RS47F are assembled using milled HS Aircraft Aluminum and internal support structures, allowing the server to operate under extreme conditions. The thicker aluminum construction is designed to limit weight, improve thermal conductivity, improve vibration performance, and enhance electrical conductivity. The RS47F server also utilizes reliable hardware solutions specifically designed to meet the users' operational environment. Crystal Group's best in class RS products are produced with the end user in mind. The growing number of requirements in military and industrial communities requires solutions capable of operating in some of the most challenging environments. "Our customers told us what they need and what they are looking for in rugged storage solutions. We listened and have created an improved rugged NAS capable server that meets and exceeds expectation," said Jim Shaw, Vice President of Engineering. "Our best in class RS line serves a market segment where customers value reliability, performance, and ruggedness in environmental extremes. Crystal Group fills a gap where no other computer manufacturers have chosen to go, proving to be very valuable to our customers."
Crystal Group Inc. is uniquely postured as one company with three business competencies. As server/systems manufacturer, systems integrator and custom design team, Crystal Group is well positioned to quickly and cost-effectively address all aspects of their customers' projects. This three-tier approach is unique in the industry and allows Crystal Group to excel at the delivery of turn-key systems tailored to their customers' specific needs.
Click here
for datasheet