Crystal develops Rugged Rackmount Dual Desktop Display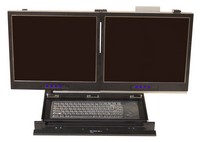 Crystal Group Inc
, a leading server manufacturer and systems integrator for mission-critical telecommunications and military installations worldwide, is pleased to announce its continued dedication to providing top quality industrial and military communication solutions. In an effort to provide enhanced rugged COTS capabilities, Crystal Group proudly announces the newest addition to the Crystal Group product family and best in class line, the
RD2217
- Rugged Rackmount Dual Desktop Display.
In environments where performance, ruggedness, and reliability are imperative, the RD2217 Rugged Rackmount Dual Desktop Display is an ideal fit. This specialized, rugged, dual display was designed for shipboard, airborne, and land-based applications. The RD2217 offers dual 17" SXGA rugged monitors featuring impact resistant, laminated stack with scratch resistant, low reflectance front cover glass. The low specular reflectance and high brightness displays yield excellent high ambient contrast. The dual displays, packaged with a micro keyboard with trackball mouse and drop down wrist rest, are configured to lie flat in a 2U space. When fully extended, both displays sit at the same focal length from the user. The RD2217 is rackmountable with locking slides and is available with HD-15 and DVI interfaces.
The RD2217 is designed and being tested to meet MIL-STDs 810F, 167-1, 461E, and 901D requirements. As always, each Crystal product comes with a standard three-year warranty. On-site, next day and extended warranties are available with CrystalGuardTM coverage. Configuration Management is also available.
Crystal Group Inc. is uniquely postured as one company with three business competencies. As server/systems manufacturer, systems integrator and custom design team, Crystal Group is well positioned to quickly and cost-effectively address all aspects of their customers' projects. This three-tier approach is unique in the industry and allows Crystal Group to excel at the delivery of turn-key systems tailored to their customers' specific needs.
Click here
for datasheet