Camera Link™ digital camera interface for PCI express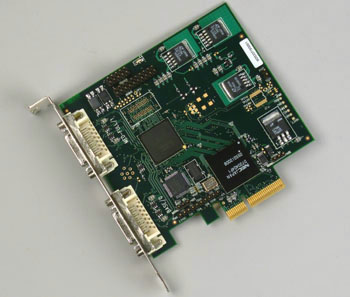 The PCIe DV C-Link from
EDT, Inc.
provides high resolution image capture for Camera Link™ monochrome and color digital cameras, and takes advantage of the increased bandwidth of PCI express to take high performance image acquisition to the next level.
Virtually any Camera Link camera can be used with the PCIe DV C-Link. Two MDR 26 pin connectors (Camera Link standard) are provided, for two base, one medium, or one full mode camera.
The PCIe DV C-Link is a dual channel DMA interface, with up to 800 Megabytes per second capability (subject to host architecture limitations) in a 4-16 lane PCI express slot. Spatial and depth resolution and the number of buffers are limited only by the host memory.
Click here
for the datasheet