48-channel Analog Input USB Bus Data Acquisition Module from EVOC
EVOC Intelligent Technology released a 48-channel Analog Input USB Data Acquisition module. The USB-48ADTL is a plug-and-play module. It is easy to instal—only needs to be inserted into the USB port of a computer.
The analog input/output, digital I/O signal, and pulse input/output signals to external sources or devices are connected via the two-row pin header onto the module.
The USB-48ADTL offers 48-channel single/24-channel difference analog input channel, 16-channel TTL level DI/DO, and 3-channel timer/counter channel. USB-48ADTL features rugged structure and high reliability, which can be used for various industrial applications. It is an optimal choice for adding the functions of measuring and controlling to any computer with USB ports.
Analog Input:
Input Channel: 48-channel single/24-channel difference
Resolution: 12-bit
Sample Rate: 500KHz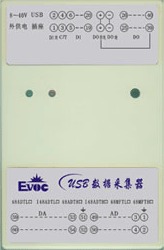 Input Signal Range: 0~5V, 0~10V, ±5V
Programmed Gain: x1, x 10, x 100
Digital I/O:
Input Channel: 16-channel
Output Channel: 16-channel
Level: TTL
Timer/Counter:
Channel: 3-channel
Compatibility: 3.3V/5V/TTL
General Specification:
Bus Type: USB2.0
Operating Temperature: 10°C~50°C